While some remain skeptical, many believe that there is some value in having a home's duct system cleaned periodically. With the amount of pollutants inside any house, several problems can arise. Those who have any type of allergy or respiratory problem will suffer more when allergens are flowing through the house. Just to reduce health problems seems like a great reason for Air Duct Cleaning, but there are others as well.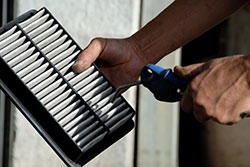 More Efficient
Any air duct cleaning company in Castiac will advise you to have your duct system cleaned once every three to five years. The frequency of cleaning will depend on things like how the big the home is or if there are any pets in the home, but periodic cleaning will help the system work better. A cleaner system will operate less frequently. An air conditioner will not have to work as hard in the summer, and the heater won't have to run as much in the winter. The best air duct cleaning will let your system run smoother and more efficiently. The result is lower energy costs, a great reason to have regular cleaning done.
HVAC System Lasts Longer
Professional Air duct cleaning not only lowers your energy costs; it will save you money in the long run. A clean system is more efficient, and a more efficient system will run less often. Routine maintenance, like Air Duct Cleaning done once every three to five years, will extend the life of your system. Since it is more efficient and running less, it will last longer. There are many people who will only have their ducts cleaned when a serious problem arises. Sometimes those serious problems lead to very costly repairs, even total replacement. Homeowners can protect themselves from spending thousands of dollars on replacing their HVAC system by spending a few hundred every five years as part of a regular maintenance program.